Het zal u niet ontgaan zijn dat de wereldeconomie op een laag pitje staat. Normaalgesproken kan er gewoonweg olie aangeleverd worden om het vuur aan te wakkeren, maar zelfs dat zit er niet in. Sterker nog, ook de olietankers varen op een lage koers. Begin maart is de olieprijs bijvoorbeeld binnen een tijdsbestek van één nacht met 30% gezakt van $46 naar plusminus $30. Uiteraard is dit geen reden om bij de pakken neer te gaan zitten. Een volatiele beurs biedt alleen maar kansen, kansen waarbij Better Options u kan helpen.Wij draaien er niet omheen, het COVID-19 virus zorgt voor een neerwaartse periode op de beurs, maar dat betekent niet dat er geen kansen zijn. De oliekoers heeft grote dalingen gekend in de afgelopen maand, onder andere door de situatie tussen de OPEC, waaronder Saudi-Arabië, en Rusland. Niet iedereen is het eens met elkaar en dat heeft er onder meer voor gezorgd dat Saudi-Arabië (te) veel olie produceert, terwijl er weinig vraag is. Toch zijn er ook lichtpuntjes in deze donkere tijden, zoals een ééndaagse stijging van 22,5% van het aandeel Shell. Better Options biedt u de beste service om ook in tijden van lage koersen te profiteren.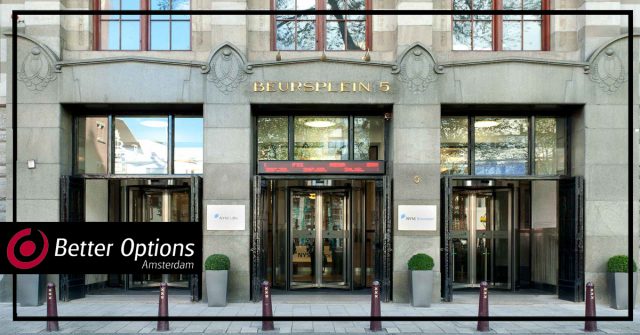 Onze Better Trading Academy
Better Options staat altijd klaar voor de trading community met zijn eigen team van traders op Beursplein 5. Nu kan het zo zijn, dat u nieuw bent in deze omgeving of dat u zich even geen raad weet in deze unieke situatie. Om voor u klaar te staan, ook in slechte tijden, bieden wij u toegang tot onze community, waar u zich onder gelijken zult bevinden. Daarnaast hebben wij onlangs de Better Trading Academy toegevoegd aan onze diensten. Hier kunt u kiezen uit een reeks cursussen, waarvan één u toestaat om al in een week tijd op hetzelfde niveau te komen als de beste traders in Nederland. U krijgt daarbij ondersteuning van professionals met 20+ jaar handelservaring. Op onze Academy leert u omgaan met een neerwaartse markt zoals de markt waarin wij ons nu bevinden en, nog belangrijker, u leert hier van te profiteren. Of u nu een handelaar in aandelen, opties of cryptocurrency wilt worden, het is allemaal mogelijk bij onze Academy!
Zal de olie koers in rook opgaan?
Normaliter is er veel vraag naar de vaten met het zwarte goud, maar tegenwoordig lijkt er veel aanbod te zijn tegenover weinig vraag. Is dit dan het einde? Nee, natuurlijk niet. Bij onze Better Trading Academy zult u juist leren hoe om te gaan met dergelijke situaties. Wilt u nu ook maximaal rendement behalen tijdens deze donkere tijden en de gegarandeerde groei die daarna weer komt? Kom dan bij ons traden, want Better Options biedt u de beste mogelijkheden. Wilt u gebruik maken van de hulp van de beste traders op de beurs? Meldt u zich dan aan voor onze Trading Academy via deze link.
Better Trading, Better Options